Cumming Arts Center in the Community
In 2017, Sawnee Association of the Arts now doing business as the Cumming Arts Center was commissioned to provide art for the walls of the Grand Jury room and witness room at the Forsyth County Courthouse.
Commissioned by the District Attorney of Forsyth County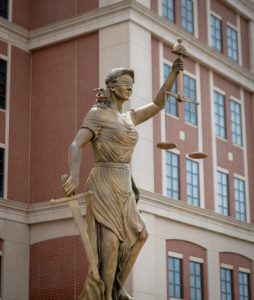 For 2020 the theme is Abstracts.You can see them click below
Since May of 2017, our members have donated their time and talent to brighten up the walls three separate times with three different themes. The 2019 theme at the courthouse was Flowers of Forsyth. You can see them here – Courthouse Art for 2019.
In 2018, our theme was Places in Forsyth. You can see those paintings on the Courthouse Paintings 2018 page. Paintings were also displayed in the witness room. There, we provided images of the State Bird (the Brown Thrasher), Tree (the Live Oak) and the flower (the Cherokee Rose).
Our hope is to rotate the art every six to 12 months to keep the art fresh. With each 'installment', we plan to incorporate a different theme, but one that highlights an aspect of our county.
Our thanks to Kris Weeden for heading up this project and her committee. Thanks also to Penny Penn, our District Attorney for giving us this opportunity.
Ongoing opportunities
Art in Our Community
The "Courthouse" project was such a success. A number of other county officials inquired as to how they could get our member's art in their offices.
We've contacted employees with the City Hall, the Administration building and the new Voters Registration building.
Private businesses have heard about us as well. We hope to have our art hanging all around our community. If you are interested in having art place in your business, complete the form on the Contact Us page.