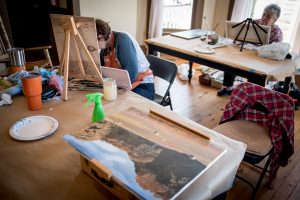 CUMMMING ARTS CENTER OPEN STUDIO
Where: Join us at the Cumming Arts Center – in downtown Cumming.
111 Pilgrim Mill Road, Cumming, Ga 30040
Cost: $5.00 Donation Requested.
(exact cash or check welcome upon arrival)
All donations go to fund our art programs.
When: Wednesdays – Still-Life Open Studio Thursdays & Fridays – Regular Open Studio
Hours: 11AM to 3PM (except when noted)
Questions?
Contact: Kris Straukas at:
Share, Create and Have Fun!
The Cumming Arts Center is excited to announce new still-life Open Studio sessions on Wednesdays! This is in addition to regular open studio on Thursdays & Fridays!
Looking to join a group of artists that meets weekly and have fun? SAA invites you to Open Studio! Let's face it, not everyone has precious studio space to create, or sometimes you would like to get together with friends who love to create and help inspire each other. Bring a friend or schedule a group!
WEDNESDAYS: SAA Artists will set up a different still-life each Wednesday in the upstairs gallery. If you are unable to climb stairs, please mention it in the comment/message section of the form below before the Wednesday you plan to attend and we will arrange a still-life set up on the main floor.
THURSDAYS & FRIDAYS: Regular Open Studio in the upstairs classroom. Still-life set ups will not be available on these open studio days.
Artists must bring their own materials and supplies (including snacks and drinks). the Cumming Arts Center will provide floor tarps, tables and table easels, table covering and chairs. So, what are you waiting for?? Come join us!! All mediums welcome (except for clay, metal soldering, or glass).
Register below so we know you're planning to attend. Please note: Still-Life and regular open studio will not be available on days when the CAC has special events or classes planned. See registration form below for Open Studio schedule.
Open Studio Guidelines
Artists must bring all supplies and materials (Cumming Arts Center provides some supplies, see note below). Artists are welcome to bring floor stools, chair pads and special easel lighting (we recommend extension cords if bringing lights).
Register below (We need to know how many are attending!).
Artists must bring a container with lid for cleaning brushes. Artists will not be allowed to wash brushes in sinks. Odorless turpentine/solvents only.
Artists must take all work and supplies home, storage is not available at any time.
All Artists must clean up and leave workspace as it was found.
OPEN STUDIO space is located on second level unless otherwise noted.
NOTE: SAA will provide 6ft tables with paper covering, table painting easels, and chairs.