Map Unavailable
Date/Time
Date(s) - 09/10/2021
9:00 am - 1:00 pm
Location
Cumming Arts Center @ the Brannon-Heard House
Categories
Instructor Name…Mary Negron             
Instructor Bio
Mary Negron is a full-time working artist living in Cumming, Georgia. Her main focus and passion is the special art of plein air painting. She spends most days outdoors in North Georgia, striving to capture those magical moments of fleeting light and color. Mixing a combination of styles sourced from contemporary, traditional, and impressionistic methods, Mary loves to create art that evokes the emotional ties. On the rare days when it is too cold to paint outdoors, Mary focuses on light and value in her alla prima studio work.
Mary's work has earned her spots in many plein air festivals and competitions around the country, including the prestigious Plein Air Easton in 2020 and Plein Air Easton 2021 as one of only two selected artists from Georgia.
Locally, her art is available for purchase at Intown Gallery, located inside Lakewood 400 Antiques market. Visit marynegron.com to see more of current works, workshops, schedule of events, and contact information.
Course Name
The Fundamentals of Plein Air Painting
Course Description
This workshop will show the fundamentals of plein air/outdoor painting. How to take that initial step to start your painting of nature's light and color. We will discuss thumbnail drawings and the importance of light and shadow in creating your compositions. Establishing value ranges and patterns in your scene and your style. We will learn how to quickly capture and loosely convey your experience within the plein air painting realm. This is a hands-on class that will offer: creating small studies in color and in black and white, loosening up techniques; and finally, a larger study capturing values and color harmony. This class will be using a limited palette to focus on technique and harmony. After class bring a sack lunch to discuss any questions you might have on the CAC veranda. Materials/supply list to follow with registration.
Charge for the Class
60.00
Location (Building name and/or address)
Cumming Art Center and vicinity
Material List (optional)
Paints – Red, Yellow, Blue, TitaniumWhite and Black (Ivory Black or Chromatic Black). Any professional paints you wish to bring.
Canvas – 2 small panels 8×10, 1 large 12×16
Brushes – Hog Bristle Flats #4, #8
Medium if using Oils – Gamsol
Portable Easel
Palette Knife
Palette
Turp Cup
Paper Towels
Small Trash Bag
Bug Spray
Water
Amount To Be Charged for Materials (optional)
0
Class Date and time
Friday September 10, 2021 – 9:00 a.m. to 1:00 p.m. (rain or shine …no rain date)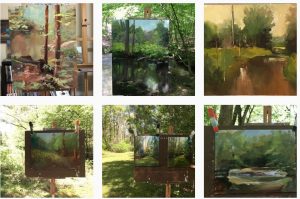 Examples of Class Creations
Online Registration and Payment Form
Update Your Google Calendar