Important Notice
The Board of Directors of the Cumming Arts Center has decided to temporarily close the Arts Center based on information regarding the current situation involving the risk of COVID 19."We are erring on the side of caution in the effort to protect our members and supporters of the arts."
Please check back regularly for updates regarding re-opening and hours of operation. If you have signed up for a class or an event at the Cumming Arts Center, please call 678 936 6422 for updates regarding rescheduling or refunds. You will receive a return call.
Thank You,
The Board of Directors Cumming Arts Center
Each year, Sawnee Association of the Arts dba Cumming Arts Center puts on numerous exhibits including Springtime in the City at the Cumming Arts Center in Cumming and the Christmas Festival at Lanier Tech. in Cumming.
Christmas Festival
.
In 2019, we sponsored our annual Christmas Festival at Lanier Tech. This community event hosts over 90 artisans and craftsmen – all with handcrafted merchandise in the largest art and craft show in the county
Autumn in the City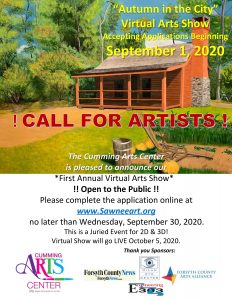 CLICK FOR MORE INFO↑
On January 12 the arts center opened its ongoing 2020 exhibits.
The featured member exhibit artists:
January … Guy Frazer,
February… Linda Petty, March …Art McNaughton
On Thursday March 5th the Cumming Arts Center opened its newest exhibit which will run through April. Due to COVID19 CAC is temporally closed. A partial view of this exhibit is available on this website. Click "Virtual Gallery Current Exhibit" in the menu bar.
SAA/CAC 2021 Calendar Contest Thanks to all of the talented artists who participated in the 2021 Calendar Contest. Voting has ended and CONGRATULATIONS TO ALL THE WINNERS posted on the "2021 Calendar Page". The 2021 calendar will be available for purchase later in the year.
Events/Exhibits/ Class
Cumming Arts Center
Calendar
Photos of Past Spring Exhibits and Christmas Festivals
Springtime in the City
@ Cumming Arts Center
Christmas Festival
@ Lanier Tech