Beginning Nov. 14 the CAC will reopen to the public with the 2nd annual Festival of Trees. PLEASE NOTE that we will be adhering to CDC guidelines with Social distancing. No-Contact Temperature checks prior to entering the building. Masks are required. We ask that all visitors plan to follow these guidelines. We look forward to welcoming visitors to the Cumming Arts Center: Saturdays 10AM til 4PM and Sundays 1PM til 4PM.
Each year, Sawnee Association of the Arts dba Cumming Arts Center puts on numerous exhibits.
Festival of Trees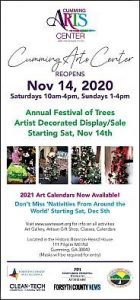 Nativities of the World-Virtual Exhibit
The 3rd annual Nativities of the World Exhibit is NOW Virtual. To view and enjoy this exhibit click "Nativities of the World 2020" in the menu bar
Christmas Festival
.
In 2019, we sponsored our annual Christmas Festival at Lanier Tech. This community event hosts over 90 artisans and craftsmen – all with handcrafted merchandise in the largest art and craft show in the county
On January 12 the arts center opened its ongoing 2020 exhibits.
The featured member exhibit artists:
January … Guy Frazer,
February… Linda Petty, March …Art McNaughton
Autumn in the City
CLICK FOR MORE INFO↓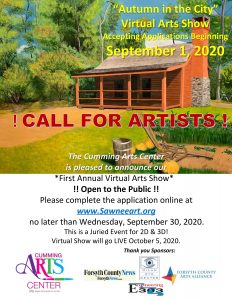 2021 Calendar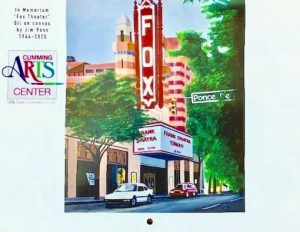 SAA/CAC 2021 Calendar Contest Thanks to all of the talented artists who participated in the 2021 Calendar Contest. Voting has ended and CONGRATULATIONS TO ALL THE WINNERS posted on the "2021 Calendar Page". The 2021 calendar is now available for sale and can be purchased($10.70 ea. incl. tax) and picked up at the Cumming Arts Center at these times: Saturdays 10AM til 4PM and Sundays 1PM til 4PM. Or if you prefer at the bottom of the "Calendar Order" page you will find an online order form to order the calendar(s) and have mailed to you. The online order form prices include tax, handling and postage.
Events/Exhibits/ Class
Cumming Arts Center
Calendar
Photos of Past Spring Exhibits and Christmas Festivals
Springtime in the City
@ Cumming Arts Center
Christmas Festival
@ Lanier Tech