Our Mission
The Sawnee Association of the Arts is dedicated to providing a rich visual arts experience for Cumming and Forsyth County residents. Among our many members are painters in oil, water color, acrylic, and other media; potters, wood turners, 3D artists photographers and others. During the year there are many opportunities to participate in shows and exhibits. Anyone, regardless of art ability, is welcome to join. To learn more, browse your website. You'll find where we put on two events during the year and provide art classes.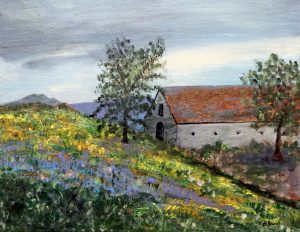 Our History
In 1970, a group of art enthusiasts saw a need for an art association to support the arts in Forsyth County. Prompted by an announcement placed in the Forsyth County News to "anyone interested in joining an art association," approximately 30 local residents met in the town of Cumming's only high school, Forsyth Central, to discuss taking this idea to the next level. Thus began the organization known at that time as The Sawnee Association of the Arts. This name was later changed to the Sawnee Artists Association.
The group met with the mayor and other organizations within the county. With a starting grant of only $100, the crusade for the art center began with its first venue … an art exhibition at The Old Jackson Building on the square in Cumming. Then in 1979, after more than a decade of tireless fund raising, the Association was able to put a down payment on a 13-acre tract of land in Cumming. Energized by this major step, the group launched an all-out campaign to reach their goal of procuring enough funds to eventually build a community art center.
After several large donations and fundraising drives on the part of its members, the original tract of land was traded for a tract on Tribble Gap Road in Cumming. The organization was now 400 members strong and included artists, actors, attorneys, realtors, commissioners, bankers and other influential leaders in the community. Then, in 1980, local artist and SAA member, Greg Johnson, was able to acquire a development grant from the Georgia Council for the Arts and, in 1991, ground was broken on the site. With the aid of several large donations and a grant from the Office of the Governor, equipment was purchased for the building and The Sawnee Center was officially opened in 1992. In 2002, the SAA opened The Hamilton Gallery which allowed members to showcase their work.
Due to unforeseen events, the gallery was closed in 2005 and the Sawnee Center was sold. At this time. The Sawnee Association was reorganized and renamed The Sawnee Artists Association. The Sawnee Artists Association continues to seve the Forsyth County Community as a non-profit organization. Through exhibitions, festivals, scholarships, educational opportunities and other events, SAA is able to provide exciting opportunities for artists and supporters of the arts.