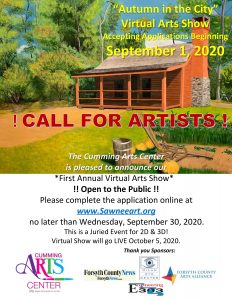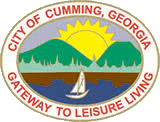 *** Call To Artists ***
The Sawnee Association of the Arts Presents
AUTUMN IN THE CITY VIRTUAL ART SHOW 2020
Going LIVE on October 5th
SAWNEEART.ORG
Hosted By:
THE CUMMING ARTS CENTER
111 Pilgrim Mill Road, Cumming GA 30040
I GENERAL INFORMATION
Technology is in the house and we are going to take advantage of it! While art galleries with virtual tours will never replace the impressiveness of seeing great works of art in person, virtual gallery shows do serve the purpose of making collections of art accessible to a much larger audience. The Cumming Arts Center is inviting local* artists 18 years of age and older to submit online photos of ORIGINAL works of art you have created recently or in the past beginning September 1, 2020 through September 30, 2020. This will be a Juried Show open to the Public, so prizes will be awarded to 1st, 2nd, 3rd place winners. There will also be a "People's Choice" on which the Public can vote. So, invite your friends and families to check out the artwork online beginning October 6th. Artwork can include 2D and 3D art. This means art can include drawings, paintings, photography, woodworking, sculptures, jewelry and more.
*NOTE: "Local" means within a 100-mile radius of Cumming, GA. Shipping or delivery of artwork sold is the sole responsibility of the artist.
I I RULES FOR THE SHOW
The entry fee is $20 for Members of the CAC and $30 for Non-Members. Limit of 2 entries per artist.
All applications must be received by Midnight, September 30, 2020.
On our website, sawneeart.org click on "Autumn in the City 2020" located in the left hand menu bar for the application. After clicking the submit button you will be connected to PAYPAL for payment of entry fees.
Please note: Not all photos will be accepted! Photos need to be very clear, sharp and in focus or they will not be accepted. Photos of artwork should not include frames.
Please note: Entry fees are Non-Refundable, even if your artwork is not chosen.
Artwork must be submitted with Title of work, size, medium, artist name and price. If not for Sale (NFS), please indicate this on your application.
Artists' contact information will NOT be posted maintaining privacy guidelines.
This is a Juried show. Jury committee will select the entries being accepted into the virtual gallery.
You will be notified of acceptance or non-acceptance into the show via email by October 6th. If you are not notified by October 15th, please call the Cumming Arts Center at 678-936-6422.
Judging for 1st, 2nd and 3rd place cash prizes will take place between October 5th – October 15th.
All accepted works of art will go LIVE on the website, "sawneeart.org" October 5th, 2020.
The Public will be allowed to vote on their favorite piece for the "People's Choice" category beginning October 5th, 2020. A "People's Choice" Certificate will be awarded to the artist with the most votes for the "People's Choice" award after November 5th, 2020.
Incomplete submissions will not be accepted.
III

DEADLINE FOR SHOW ENTRY
All entries must be submitted no later than Midnight, Wednesday, September 30, 2020
↓YOU CAN ONLY ENTER BY USING THE ONLINE ENTRY FORM PROVIDED BELOW↓
↓ FROM SEPTEMBER 1 THROUGH SEPTEMBER 30, 2020 ↓