The Cumming Arts Center & Sawnee Association of the Arts Presents
Plein Air Quick Paint Competition
Join local artists for the Plein Air Quick Paint Competition being held in conjunction with A World of Art Festival! Open to amateur and professional artists alike, this is a wonderful opportunity to paint numerous historic buildings and landmarks including the Cumming Arts Center and the School Street Playhouse. Prizes and Exhibit opportunities!
WHEN: May 7, 2022 – 9AM to 12PM
COST: $25.00 donation to Cumming Arts Center
Register by credit card below or click on the guideline button below for cash/check payment registration form for the day of the event.
Please read the guidelines carefully before registering. Print guidelines for your records and for artwork labels required for exhibit and prize opportunities.
Plein Air Quick Paint Guidelines
A World of Art Festival information page – Click on the button below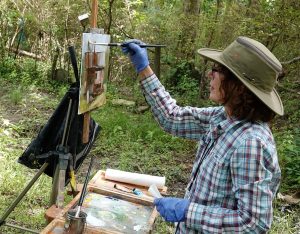 New to Plein Air Painting and want to learn the basics?
The Cumming Arts Center is offering an "Introduction to Plein Air Painting Workshop" being held the day before the Quick Paint Competition.
Introduction to Plein Air Painting Workshop
Instructor: Professional Artist – Mary Negron
When: May 6, 2022 – 9AM to 1PM
Cost: $45.00 donation to the Cumming Arts Center
What you'll learn
How to paint outdoors with confidence
How to mix color outdoors using a limited palette
How to create composition confidently
How to make outdoor sketches and notan values
Break free from the studio limitations
This workshop will give you a step by step introduction to plein air painting and easy learning.
This class will be using a limited palette to focus on technique and harmony. After class bring a sack lunch to discuss any questions you might have on the CAC veranda.
For complete workshop information & registration click on the button below.