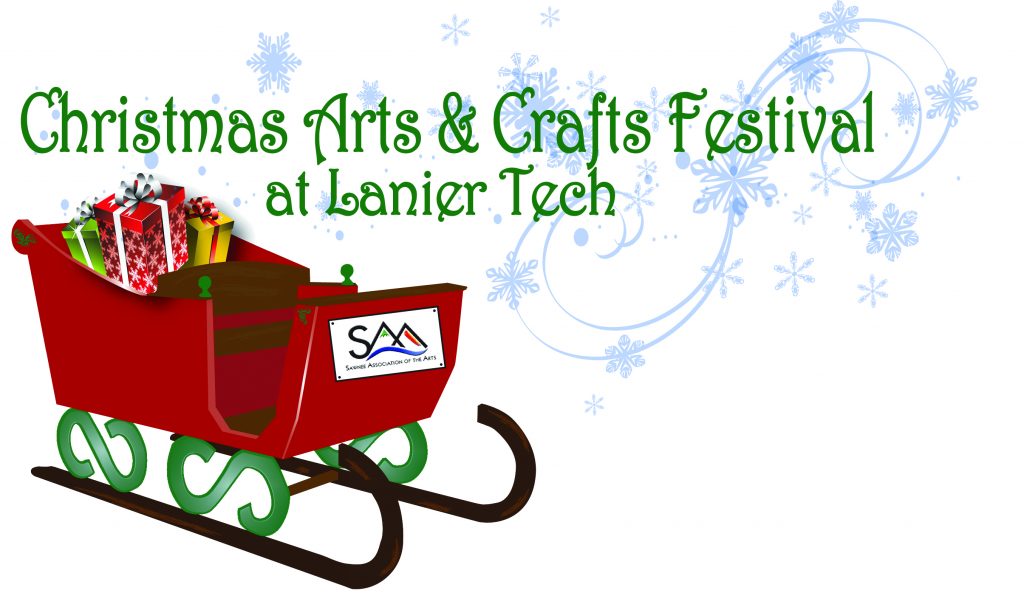 The Christmas arts & crafts festival at lanier tech
ATTENTION VENDORS: The deadline for applying to the Christmas Arts & Crafts Festival has officially passed and SAA is no longer accepting applications for the 2019 festival. The 2019 festival is officially booked to full capacity! A waitlist is now available to vendors.
Festival Waitlist Requirements: Email the following information to SaaChristmasFest@gmail.com.
Vendor Name & Business Name
Phone Number & Email Address
Website & FaceBook Information if Available
Last four Shows/Festivals Participated
Detailed Description of Products and Booth Display

FIVE Photos: 1. One Booth Display Photo 2. Three Photos of Your Product 3. One Photo of You Creating Your Product.

We require all merchandise to be 100% handcrafted. No buy/sell, kits, or commercial vendors allowed. Store-bought components used in conjunction with laser, vinyl or embroidery machines is not allowed.

Once SAA receives the above information, you will be officially placed on the waitlist. If booth space becomes available and you meet all vendor qualifications, the committee will notify you of space available.
This grand event is being held on November 9 & 10, 2019 at the Forsyth Conference Center at Lanier Technical College, located at 3410 Ronald Reagan Blvd, Cumming GA. The hours of the event are 9:00 AM until 5:00 PM on Saturday, November 9th and 10:00AM to 4:00 PM on Sunday, November 10th.
Please click on the buttons above for complete festival and vendor guidelines and application. PLEASE NOTE: Merchandise must be 100% handcrafted; no buy/re-sell, commercial, kits, or home party vendors will be allowed. This includes store-bought components used in conjunction with embroidery, laser and vinyl cutting machines. This is a juried festival, an independent juror juries all vendors each year. Please contact the committee by email for any questions.
The Christmas Arts & Crafts Festival at Lanier Tech is the largest indoor/outdoor arts and crafts festival in Forsyth County, with over 100+ vendors; it has become an established community event with local residents. Children will have the opportunity to play in two moonwalks (weather permitting) and help raise funds for a local non-profit organization; Shop for gifts in the Elf Corner, a special shop where only kids can shop! Elves will help them choose gifts for friends and family; gift wrapping included. Parents can capture their children's special visit with Santa using their own cameras for a small donation. Food trucks, and food vendors will be available outside, along with numerous non-profit organizations that SAA is hosting as part of our community outreach program. We look forward to working with you!
This juried festival will feature original, handcrafted works by professional artisans & craftsmen in the following mediums: painting, drawing, photography, mixed media, pottery, wood working, glass, fiber and food.